On a rainy day this week I had to leave the comfort of my attic and visit the basement of a building where I was made to remove my hat and shirt and then, while my gauntness was compassionately regarded by a medical assistant, asked to put on a most curious robe two or three sizes too big for me which flowed to my knees and which moreover tripped me as I walked, and then turn round and wait patiently as a curious protective belt was girded round my waist. That done, I was more or less pushed with my nose and shoulders against a cold, opaque surface, told to stand still, and then, alas, beamed with x-rays in the chest. The x-ray showed that…
I don't have any noticeable tumors in my chest, lungs, or thereabouts. Now you may think that is good news, but wait until you hear my symptoms:
Progressive weight loss during the past 12 months and especially this year. I now weigh 55 kilograms at a height of 1.72 centimeters. Almost all my clothes have become too big. I must have lost at least 6-7 kilograms.
Tiredness, not all the time but almost every day.
Two tiny swollen lymph nodes in my neck. Methinks I can feel a tiny one in my nape too.
A swollen, mutant-looking left tonsil, about twice as big as her sister. Nothing particularly wrong about her appearance, though, according to the E.N.T.s. Certainly not tonsil cancer.
For two weeks I have also had a mean, itchy rash on my lower body, especially on my shins and calves and around the ankles.
Diverse other minor symptoms that come and go – such as a light dizziness as if I am in a boat and light coughing.
As to my blood tests, they are great, save that my calcium level is slightly elevated.
According to my research, I may have some kind of lymphoma, probably non-Hodgkin's that resides either in my tonsil, or alas, somewhere underneath my hat, though I cannot complain of headaches, nor have I vomited in recent years, at least not since that tragic Christmas when I was 12 and ate a whole box of chocolates.
My M.D., a young and open-minded fellow, doesn't think me terminal. We decided that for the time being we will wait and see what new developments will occur and then I will be sent to make friends with a hematologist.
Other than that, I'm thinking about purchasing eyeglasses and cannot decide which lens shape to choose.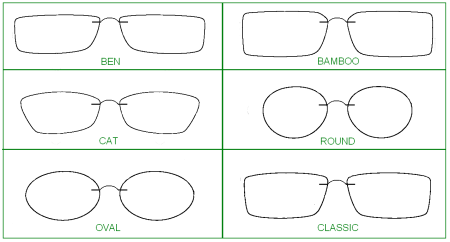 Which do you propose?